วิธี เล่น สล็อต ผล ไม้ ให้ ได้ เงิน_เว็บพนันบอล ดีที่สุด 2019_แจกเครดิตฟรีเกมยิงปลา _gclub slot เล่นผ่านเว็บ_แจกเครดิตทดลองเล่นฟรี ไม่ต้องฝาก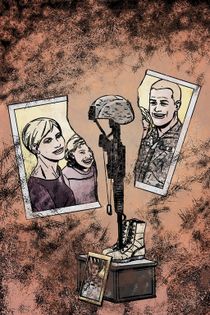 Written by: Eric Trautmann and Brandon Jerwa
Illustrated by: Steve Lieber
?
Today's battlefield isn't just about the uniformed soldier in service to his country; there's also the contractor, who answers to the corporation. Call them mercenaries, soldiers-for-hire, or private military operators, they are a new breed of combatant in today's conflicts.
?
Shooters?is the story of Terry Glass, a warrior whose spirit and soul has been hardened in countless battles. When a horrible accident shatters his world, Glass finds himself waging a private war on several fronts—against his career, his marriage, and ultimately, his faith.
?
Written by Eric S. Trautmann (Checkmate,?Red Sonja,?Flash Gordon: Zeitgeist) and Brandon Jerwa (G.I. Joe, Battlestar Galactica, Highlander), and drawn by Eisner Award-winning artist Steve Lieber (Underground,?Whiteout,Road to Perdition: On the Road),?Shooters?tells a story of modern warfare that will stay with you forever.
?
Vertigo ?| ?Hardcover ?| ?B&W ?| ?144 pages ?| $22.99US
PRAISE FOR SHOOTERS:
"Shooters?is a gutsy, honest, and gritty look at covert ops and combat actions in the modern battlespace. This is a place where Spec Ops, the conventional military, and war zone contractors collide. ?The fog of war is often more than a moment of tactical confusion; it can also become a deeply personal state of mind." -- ?Colonel Gerald Schumacher, U.S. Army Special Forces (ret)?(author of?A Bloody Business: America's War Zone Contractors and the Occupation of Iraq)

"An uncompromising look into a world most people only hear about on the news.?Shooters?is brutal, raw, compelling, and undeniably human. Brandon Jerwa, Eric Trautmann and Steve Lieber have produced a story that'll stay with readers for a long, long time." --?Kurt Busiek?(Astro City, Marvels, Arrowsmith, JLA Vs. Avengers)?
?
"It's been said that there are only two kinds of war stories, the ones that lie, and the ones that lie a lot. What the veteran knows is bound in fiction and painted in every shade of the rainbow, from entertainment to truth. Shooters is that rare war story, and that most precious of all stories — a tale of identity and redemption, well-told and well-executed. Jerwa, Trautmann, and Lieber have crafted a powerful, raw work, that echoes as profoundly as the battles it relates." --?Greg Rucka?(Whiteout, Queen & Country, Stumptown, The Punisher.)?
?
"Shooters?is not a book about combat... [it] is a story about the physical and emotional aftermath of combat, and is infinitely more effective and touching as a result. Jerwa, Trautmann, and Lieber don't just bring you into the reality of warfare, they bring you into the heart of a man who has experienced it firsthand. Unlike every other war story I've encountered, I identified with the struggles of the protagonist, Terry Glass. I felt his pain and related to it in a way I've never done before. [We] have all felt the pain of disappointment, of bewilderment, and of separation from the ones we love. The creators of this book have done a masterful thing in creating a character that we can believe in, and whose unraveling is that much more painful and shocking as a result. This is a seriously terrific book, well-researched and utterly convincing. I have nothing but the utmost praise for it." —Matthew Sturges?(Jack of Fables, House of Mystery)
?
"Five. Out. Of. Five. Seriously. ...You do not have to be [a] war buff, have experience with post-traumatic stress syndrome, or [have] any other link to the military to enjoy this book. Whether you take this as a war story, military saga, or heart-wrenching drama, you will find something here that makes you 'feel.'?On April 18th, be sure you have a copy. Read it. Feel something different." —?Charles Joy?(for Outer Realm Comics and ComicVine)
?
"...co-writers Eric Trautmann and Brandon Jerwa craft a narrative so impacting, and so powerful, that it's impossible not to be swallowed by it completely. ...For his part, artist Steve Lieber is brilliant, turning in almost flawless pages that are a treatise on clear, character driven storytelling. Somehow both stark and inviting, Lieber's work here is equal parts Tony Harris and Alex Toth, building on clear, expressive line work and a sense of detail and authenticity that is absolutely crucial to this type of grounded, emotional story." —?George Marsten?(Newsarama)
?
"Shooters?does a remarkable job of presenting a longform war comic for our era. In Terry [Glass], we see some of the complex, difficult, intense problems that a war like this brings to the surface. We also see the glory, camaraderie and patriotism that American soldiers show every day. It's specific and it's general and it's tragic and a bit heroic, too. And in the end, I think we all hope we feel a bit of the closure that Terry feels at the end of this smart, moving and intense graphic novel.?Shooters?brings the Iraq War to the front of our minds. And shouldn't it always have been there?" —?Jason Sacks?(Comics Bulletin)
?
"It's a war comic with all the classic war comic trappings to be sure, a valuable new addition to a genre perfected by the likes of Joe Kubert, Alex Toth, and Jack Kirby ...Trautmann and Jerwa have such a subtle hand with prose styling ...Lieber['s] layouts and inks showcase an astounding range, transitioning masterfully between dense, tightly plotted depictions of military maneuvers to raw, almost impressionistic explosions, to cleaner, sparser domestic scenes." —Paul Montgomery?(iFanboy)
?
"...Shooters?manages to navigate the plethora of complex issues faced by returning soldiers is a very real and powerful way.?Shooters?may be one of the most important graphic novels that has been published in a long time. Even a week after initially reading an advance copy of this work, I keep thinking about it on a daily basis." —Robb Orr?(Comicbooked.com)
?
"While there certainly have been many exceptional graphic novels about the Iraq War published, there have been very few that have taken such a raw, focused look at one person's journey from soldier to civilian and back again...?It may be hyperbole to tout this as the most important graphic novel of 2012, but I think that is an honest assessment...?I wholeheartedly recommend this to anyone..." —?Joseph Dilworth?(Pop Culture Zoo)
?
"Make no mistake:?Shooters?is about war. It takes a hard look at the sacrifices soldiers like Glass have made in the name of God, country and personal interest. However, this book is about more than the dust-ridden battlefield. It's about the mettle of a man, the conflict that rages within all of us between duty and family, id and super ego, where we want to be versus where we have to be." —Ain't It Cool News