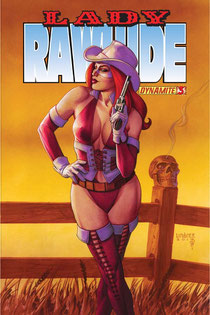 Dynamite Entertainment has released a preview of?Lady Rawhide: Sisters of the White Rose #3, which I?think is out this week, but I'm honestly not sure.?[Edit: Confirmed—out tomorrow, Wednesday, December 17th, 2013.]
?
LADY RAWHIDE: SISTERS OF THE WHITE ROSE #3 (of 5)
Written by:?Eric Trautmann
Art by: Milton Estevam
Cover by: Joseph Michael Linsner
?
Unrest flares in Old Mexico. Revolution is in the air, and the Sisters of the White Rose are fanning the flames, seizing control of the capital and placing the corrupt governor on trial for his crimes against his own citizens. But as the rebellion swells, the governor's masters have plans of their own. Gunmen, bent on killing the Sisters and Lady Rawhide, are on the move. There are killers a-plenty, all with shifting allegiances, with Lady Rawhide caught in the middle of a maelstrom of death and treachery…
?
?
Dynamite Entertainment ?| ?32pg. ?| ?Color ?| ?Teen+ ?| ?$3.99US
PREVIEW: