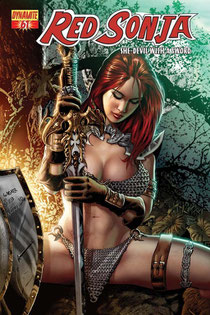 Dynamite Entertainment has released a preview of Red Sonja #61 (which means, I assume, that the issue hits store shelves this week); this issue starts a new story arc and reteams me with illustrator Walter Geovani. (Walter drew my first Red Sonja issues, and is a joy to work with.)
?
RED SONJA #61
Written by: Eric Trautmann
Art by: Walter Geovani
Covers by: Walter Geovani, Wagner Reis
?
Stygia: mysterious land of black magics, serpent gods, and deadly intrigues...and the last place in the Hyborian Kingdoms a sane person would venture. But with Emperor Strabonus' assassins hot on her heels, and accounts to settle in Stygia, that's just where Red Sonja is headed.
?
Dynamite Entertainment ?| ?Color ?| ?32 pg. ?| ?Teen+ ?| ?$3.99 US
?
Preview (best if viewed in "full screen" mode):